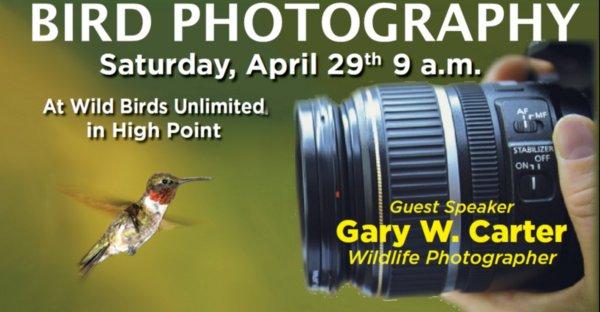 Naturally Speaking ... a series of programs about nature
Bird Photography

Date/Time: Saturday, April 29th, 2017 - 9:00 a.m.
at Wild Birds Unlimited in High Point
Presented by Gary W. Carter, Wildlife Photographer
Want to learn how to take better pictures of birds and nature? Then this program is for you!
Gary W. Carter, our guest speaker, has been photographing our natural world for 30 plus years and he will be sharing some tips and techniques that he uses to get the fabulous results in photographing nature with birds in mind. He will talk about bird photography, camera gear, blinds, birds and habitat.

The program is FREE. Seating is limited.
Call for Reservations. (336) 841-2572